Dressmakers Pins, Pin Cushions and Needles
Photo courtesy of Poppyprint
What's In A Straight Pin? 
More than you might think.  First there are the obvious—head and point, but what's in between matters as well. You need more than one kind and size of pin in your sewing kit.  Here are some tips and choices.
First and most important, always use rust-proof pins, which, surprisingly, doesn't always mean stainless steel.  When put to the test, chrome-plated steel and brass pins resisted rust the best.  But if you keep your pinned project away from water, that is out of a damp environment like a seacoast, a regular stainless steel pin will serve you well.
Next, use the thinnest pin possible to avoid holes in your fabric.
Choose the sharpest point available so you won't be poking at your project unnecessarily.
NUMBER ONE PIN RULE: No pins in the mouth.  Yes, it is convenient to hold a pin or needle between your teeth, but imagine what that sharp point will do to your innards if you accidentally inhale it.  And, oh, yes, that has happened.  Don't believe me?  Check with your local emergency room.  Use a pin cushion or magnetic tray to hold your pins.  Pin cushions also keep pins and needles off the floor and pile carpets, away from pets, bare feet and toddlers.
Length of Pins
Use the longest pin you have to assure that the pieces you are securing won't come unpinned.
Applique pins tend to be shorter for attaching small pieces to larger pieces.
Pins for pleating should be at least an inch.
T-pins successfully secure upholstery pieces and other heavy items.
Forked pins have two prongs for holding difficult items in place such as linings.  They are also useful for matching stripes.
Tidy pins and twist pins hold mattress covers and bed skirts in place.
Quilting pins are designed to hold many layers of fabric together, but also can do double-duty as dressmakers pins.  With their round, plastic heads, they can serve many masters, quilter, craft sewer and dressmaker.
Dressmakers Pin Care
Don't hesitate to toss out a bent or rusted pin.  Ditto for pins that have lost their sharp points.  Dull pins will leave holes in your fabric.
Keep your pins in a metallic tray, or thick pin cushion when not in use.  Use your sewing skills to create artful pin cushions for yourself and as gifts.
Don't use hand sewing needles as a substitute for straight pins.  They are too expensive and they will lose their sharp points with overuse.  Also, because they don't have discernible heads such as round plastic balls or tees, you can lose them in your fabric.
Where to buy pins?  For some of the specialty pins mentioned above, you may need to search an online sewing supplies store.  Otherwise, a shop that sells sewing craft supplies should have what you need.
Can You Sew Over Pins?
Sometimes you can get away with it, depending on your machine, but you risk breaking the needle, damaging the needle bar and the bobbin case.  Also, the broken tip of a needle can get wedged in the machine, get lost on the carpet or fly up and strike your face.  Even without these mishaps, you scan get a wobble in your seam and dull the needle.  A better technique is to slow the machine as it approaches a pin, remove it and then speed up.
Choosing The Best Hand Sewing Needles
Use the same guidelines for choosing needles as you do for pins.  Select a rust-proof metal, very sharp point and the thinnest needle (the width of the shank) that will do the job.  If you have trouble with your eyesight, look for self-threading needles or invest in a very inexpensive needle threader.  Some lucky sewing machine owners have self-threading needles on their machine.
What Kind Of Needle Should You Buy?
Needles are also sized for specific types of projects and fabrics.  The general rule, as with pins, is to use the sharpest and thinnest needle that will do the job.  They run in sizes from 1—the finest through 10 for heavy duty projects and tougher material.  Many needle companies package an assortment of needles so that you have a good selection.
Here are some guidelines for matching sewing needles to projects.
When working on knits, choose ball-point needles with a blunted tip that won't snag.
Are you into making hats?  Then you want a milliner's needle, which is quite long.  However, you can use them for basting and other hand work.
If your eyesight is troubling you, choose an embroidery needle.  Also called a crewel, it has a large eye for easy threading, as well as embroidery work.
Quilters need shorter, thin quilting needles.  Though they have a small eye which may require a needle threader, they are best for working with many layers of fabric—the hallmark of quilts.
Every sewing box needs a tapestry needle, especially if you also knit.  Their large eye and blunt tip gives them away.  Designed for passing through the holes in needlepoint and tapestry canvases, they also accommodate thick yarns when it is time to weave in the ends on a knitting project.
When you have to pull ribbon through woven fabric, for instance, reach for the chenille needle. This last needle that you will find in your craft store is similar to the tapestry, but the chenille needle has a large eye and sharper point.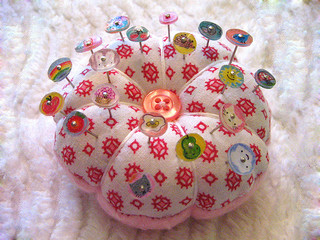 Photo courtesy of Pinkpoppy