Sewing Room Organization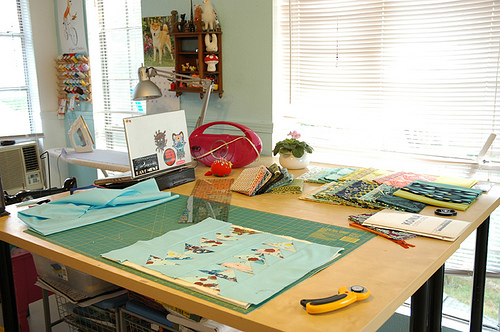 Not every sewer has the need or luxury of a dedicated sewing room.  In centuries preceding electricity, women stitched together their clothing and linens while sitting in front of the fire surrounded by their families.  For your space, you can use an alcove in the kitchen or a turn a wide, shallow closet into your craft space.  You may even have your space perform double duty, such as your home office with the computer table cleared off for your sewing machine during your seamster hours.  If you are designing a sewing room, though, you want to put some planning into it to maximize the space and storage.  Time spent on sewing room organization will reap rewards for years to come.  Here are some sewing room ideas as you sit down to plan your work space.
Space
Whether you are carving out a corner of a utility room or taking over the guest room, it goes without saying that you must use your space wisely.  Take a page from the architect's book and draw a diagram of the space with the sewing furniture you plan to use sketched out.  Try to make it as close to scale as possible so you don't think you have room for your eight foot cutting table only to find out that you do, but you can't open the door!  
Think about the pieces you need to walk around, such as the cutting table and dress form, as well as the pieces that you can push against the wall, such as a sewing chest and table for the sewing machine and serger.  You will want to have a mirror with enough room to pose and turn.  If you have a cramped space, think about items that can do twice the work, a book case, for example with dedicated shelves for your notions and sewing baskets.
Remember that your ironing board is part of your sewing room furniture and you must a lot space for it. 
And don't forget about your computer and/or DVD player when you need to look up a technique on the internet, or to provide music as your work.
Let There Be Light—and Lots of It
Avoid eyestrain by choosing a space with natural light streaming in from windows, overhead lights, table lamps or a combination of all three.  Don't expect your sewing machine light to illuminate all aspects of your project.
An important lighting tip for sewers:  Choose daylight or natural light bulbs over fluorescent bulbs so you can see the true colors in your project.
Electricity
Lots of outlets.  LOTS.
Storage
Maybe it's just me, but if I lived in a 57-room house, I'm sure I still wouldn't have enough storage.  Can you relate?  Yet, one of the luxuries of a dedicated sewing room is that typically it will have lots more room for shelves and bins.  To plan your storage space, take an inventory of your stash, notions, books and equipment.  Consider not just the types of things you want to store but the quantity.  Some of us have large libraries, others don't.  Many sewers accumulate enough fabric to open a shop, but others only keep enough on hand for two or three projects into the future.  Use see through plastic bins for whatever volume of stash you have.  This guarantees that your fabric will not become victim to dust, pests or accidental spills.  Keeping the bins out of the spotlight also assures that your fabrics won't fade.
Calculate the reach factor.  How easy will it be to grab that pressing ham when you need it?  Are those frequently used items close at hand or will you have to get out the ladder to reach the top shelf.  Save that space for items you use very infrequently, such as books you want to keep but don't need to refer to very often.
Collect lots of small, covered containers for holding pins, measuring tapes, fabric glue and the like.  Don't have open boxes of things that can spill onto the floor.
Make It User Friendly
You absolutely must factor in a comfortable chair, lighting and table height to prevent back and eye strain.  Nuff said.  If you think this isn't important, search any popular sewing forum for posts by sewers asking for help with neck pain from leaning over a table that is too low, or back strain from a make-do sewing chair.  If your budget for your new room is a bit pinched, forego some expensive fabric for a while to pay for these items.  You will be working in this room for possibly years to come.  It must be comfortable.
Let's lump the trash container in here.  You don't want to be tripping on shreds of fabric or used thread holders.
Sewing Furniture
These items will depend on the types of sewing you do.  If you prefer only to work on small projects, doll and baby clothes that don't require a lot of cutting space, choose a cutting table accordingly.  If you make everything your family wears, then you need a table that will accommodate 60inch widths and several yards long.  Use the space under the table for a shelf where you can keep scissors, rotary cutters, measuring tapes and sticks handy.
Above all, choose a surface that is the right height for you, whether you are tall, short or in the middle.  If you want to save money, buy a hollow core door at the lumbar yard and place it on two low filing cabinets or buy table legs that you can screw in.  Inexpensive and you can build it to suit your personal specifications.
The Floor
You likely will spend a lot of time on your feet as you pin, cut and measure over your work surfaces.  Consider a cushioned floor covering if that works with your budget.  If not, get throw rugs to cushion your feet, legs and back—even if your room is carpeted.  They will also keep your feet toasty if you live in a cold weather climate.
Should your room have hard flooring or carpet?  A matter if taste, but hard floors allow for easy sweeping up of pins and scraps.
Friends
If you like to have your nearest and dearest keep you company, human, canine or feline, make sure there is napping space, food and water available. 
Décor
Last, when you are designing a sewing room, make your space as pretty as possible.  This is where you create beautiful things, so inspire yourself with your favorite color combinations for paint, wallpaper and window treatments.  Use color coordinated bulletin boards and shelf edgings.  Put a coat of paint on the shelves you make or the unfinished furniture you buy at a discount.  Make this room as inviting to you as you can, so it will draw you in year after year.