The Five Best Steam Irons For Sewers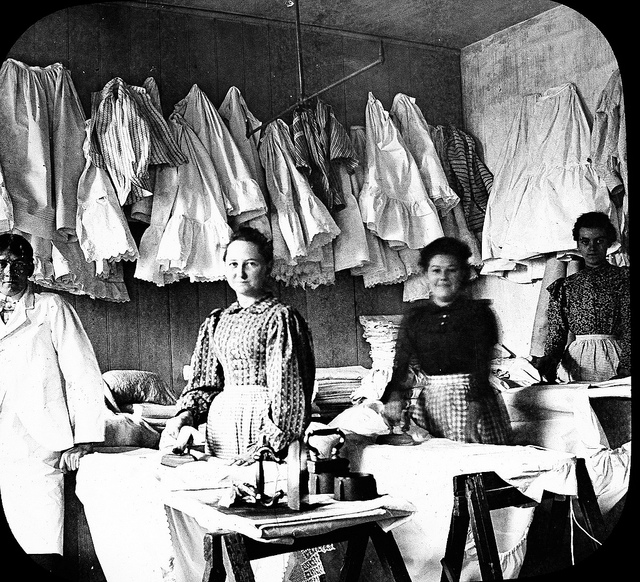 We've come a long way since the days of petticoats, ironing boards made out of saw horses and boards, and irons you heated on a wood burning stove.  But we haven't outgrown our need for high-quality, dependable irons that will pamper modern fabrics and have our garments and home decor items looking like they were designer-made.  Here is our list of the top five irons for sewers.  Why are they all Rowentas?  Because sewers in the know, KNOW that you only use Rowenta.  Even if your beginner iron is the bottom of the brand price-wise, it will serve you better than any other brand.  It is the best iron for sewing and the ONLY brand recommended by TheHomeSewingPlace.com (and no, we don't get a cut from the company).
Photo courtesy of rich701
 You will always find Rowenta among the top rated irons.  The first Rowenta to consider is the Pro Master DW8080 at just under $100, down from $125.  It delivers professional level performance at a consumer price.  Powerful, at 1700 watts, it delivers steam at high pressure to eliminate wrinkles on all fabrics with optimal steam diffusion, also giving the sewer the ability to shape fabric with steam.  It features the new Microsteam stainless soleplate with precision tip and 400 steam holes.  This combination allows excellent glide as well as superior scratch resistance. Users appreciate the 3-way smart automatic shut-off switch, which turns the iron off after 8 minutes when in the horizontal position and 30 seconds if it is accidentally tipped over. You can adjust the steam output and with its powerful vertical steam you can easily steam hanging items.  When necessary, you have the option of a cool spray mist for stubborn creases. And to make the harried sewer's life a bit easier, the DW8080 Pro Master offers 12.7oz water tank, which fills easily and to prevent spitting and leaking, to say nothing of surface burns from unexpected sprays of boiling water.  It is also fitted with an anti drip system. As you would expect from a top rated steam iron, it has an Anti-Calc system and Self Clean system reduce chemical buildup and guaranteeing high performance.  It is user friendly due to its ergonomic handle and 7ft electrical cord with a 360 degree pivot. The one-year warranty is standard, of course, but also offers some consumer confidence.
Click here to purchase on Amazon.
Second in line for your consideration is the
 Rowenta DW5030 with Stainless Steel Soleplate, on sale at this writing for $159.99, reduced from $215.00.
If you are into name-dropping, the Rowenta DG5030 pressure iron and steamer is the official iron of Project Runway.  At 1750 watts, it is high-powered and feature-laden.  Though it boasts a 33 ounce capacity water tank—think 1.5 hours of continuous steam so you can keep working without constantly running to the water tap—this model is compact with a stable base that fits easily on most ironing boards.  However, if you need space, you can put the water container on the floor or otherwise out of the way because of it's heat-resistant iron rest.
The latest technology brings professional ironing equipment right into your sewing room.  When it comes to providing an endless abundance of pressurized steam, the DG5030 over-delivers.  With the press of a conveniently located trigger under the handle you have steam on demand that will penetrate deep into fabrics to ease away wrinkles or create sharp creases where needed.  Variable steam control allows you to address the needs of an endless variety of fabrics, those needing light steam for a quick touch up and those requiring the power you would expect to get only from a dry cleaner.
The iron weighs in at 2.5 pounds and the base at 7.5 pounds, but is surprisingly compact for storage.  A six foot steam hose, 12 foot power cord and Stainless Steel Soleplate that allows you to glide easily and is scratch resistant completes the package.  For professional quality pressing, this is your iron.
Check it out by clicking here.
The Rowenta DW5080 Focus 1700 Watt Steam Iron with 400-Hole Stainless Steel Soleplate iron has all the features that make Rowenta the go-to iron for knowledgeable sewers.  It allows steam to penetrate deeply across the soleplate without hotspots.  It maintains accurate and consistent heat while gliding effortlessly over any fabric and uses tap water to boot.  At a moderate price point for this quality iron, $89.95, regularly $100.00, it's specs include 1700 watts, a 400 hole soleplate, a 10 ounce water tank, an extremely pointy tip and a self cleaning system.  It offers Variable SteamSpray vertical steam and a 7 foot electrical cord that has a 360 degree pivot.  
Go to Amazon.com for more details on the Focus.
Why would you pay a premium price for an iron, that is in the neighborhood of $299.00 (reduced from $400.00)?  Because it is a Rowenta DG8430 Pro Precision Steam Station.  When you want top of the line professional quality performance in the comfort of your own sewing room, Rowenta DG8430 Pro Precision Pressure Iron and Steamer is for you.  This model, offering 1800 watts of power and a 33 ounce water tank, delivers 4 bars of pressure, 90g/min steam output and heats fast.  In plain English, that means "WOW."   You get evenly distributed steam, 400 hole, stainless steel soleplate, calcium clearing system for easy cleaning and enough bells and whistles you'd think it's going to do the ironing for you. The easy to read control panel with an anti- scale system indicator, empty tank indicator, steam ready indicator and rinsing boiler indicator makes it clear why this is a professional ironing system, not just your everyday iron.
Visit Amazon here for more information.
What do you look for in a good iron?  First and foremost, one that knows the difference between mere ironing and high quality pressing.  You need more than a piece of hot metal that will remove standard issue wrinkles.  You want a high powered steam machine that will help you shape garments as you sew them with hot moisture combined with enough heft to allow you to apply pressure to remove stubborn wrinkles.  You want an iron that glides easily, resists scratches and nicks and offers a user friendly design that uses tapwater, feels comfortable in the hand with a retractable cord apparatus that allows you maneuver in and around pleats, sleeves collars, ruffles and other hard to get at areas with tangling.  At a lower price point, the Rowenta DW2090 Effective Comfort Cord Reel 1500 Watt Steam Iron with 300 Hole Stainless Steel Sole Plate offers all of this.  In keeping with this budget friendly model, it has less power than it's big brothers listed here, but it will still do the job.  At 1500 watts you will still get excellent steam penetration, consistent temperatures, maximum glide and efficient ironing day in and day out.  We don't have room to list all the features of the DW2090, but among them are the room water tank that accommodates almost 9 ounces of water, a stainless steel soleplate with 300 holes for even steam distribution and a nice pointy tip to get in those hard to reach corners.  This iron is for you if you want economy and efficiency.
At just over $60, down from $75.00 as of this writing, you can check it out here at Amazon.
Don't forget to add Rowenta's excellent non-toxic soleplate cleaner to your shopping cart.  It eliminates dragging caused by starch or melted synthetic fiber buildup.  Protecting your iron and your fabrics with each application, you can use it on any make of iron.